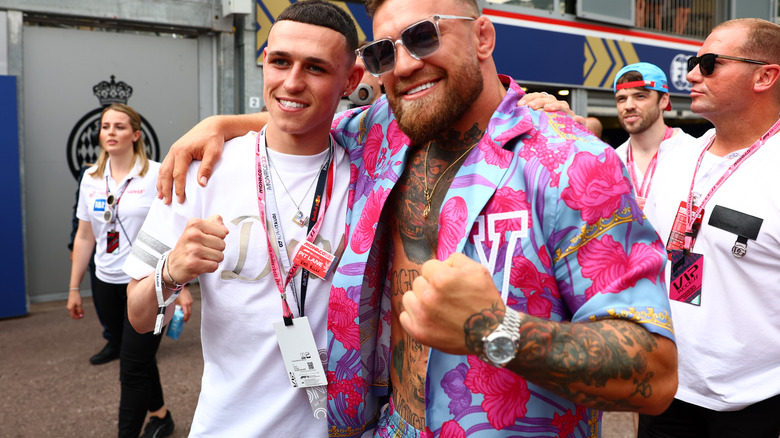 Mark Thompson/Getty Images
When superstar UFC fighter Conor McGregor announced to the world that his "Lamborghini yacht is ready" on Instagram, many fans couldn't wait to get the first glimpse of him testing out his lavish new ride on the waters. McGregor, who was the highest-paid athlete in 2021 (via Forbes), shelled out $3.6 million for the Lamborghini 63 last year, as first reported by TMZ back in 2020. He has since published many images and videos of the yacht on his Instagram account.
The Lamborghini 63 was built in partnership with the Italian Sea Group Tecnomar, and the model's sleek and futuristic design was inspired by the Lamborghini Sián FKP 37 and older Countach and Miura supercars from the '60s and '70s, according to Lamborghini. This yacht is a limited edition and only 63 of them were put up for sale. Even though the upscale model has every feature a champion can ever wish for, McGregor reportedly had his yacht specially customized by the Italian sports car manufacturer.
It's known as the Super Car of the Seas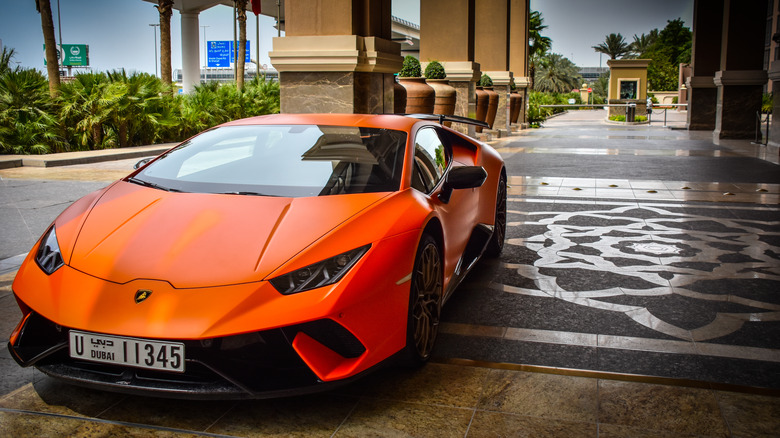 FWC Stock/Shutterstock
The Lamborghini 63 features a pair of V12 2,000 horsepower engines; it boasts a top speed of 60 knots and a cruising speed of 40 to 45 knots, making it one of the fastest yachts in its class. Usually, a vessel that's capable of reaching these speeds might mean a bumpy ride, but test trials of this super yacht have reportedly shown the opposite. Despite its high speed, cruising on this luxury yacht was described as a smooth experience with almost no vibration by Robb Report following a special invitation to check out the ride.
Lamborghini designed this yacht to be the super boat version of its trademark car. The outside of the limited-edition model has a distinctive angular design with Y-shaped lights and the official Lamborghini logo. The companies also used carbon fiber (the same material used to make the cars) and a fiberglass hull to help keep it as light as possible. Carbon fiber is an ideal material to make the yacht as it's reported to be five times stronger than steel, yet still lightweight at the same time. By using it, designers were able to create a boat that is 63 feet in length with a weight of just 24 tons.
The interior is stunning
Glen Carranza/Shutterstock
Whether he's out taking it for a spin in Monaco or cruising with his fiancé Dee Devlin and his children on the French Riviera, this yacht is ideal for a leisurely cruise. One can browse through various photos posted online showing the MMA icon living his best life on his high-class cruiser while showing off the yacht's tricked-out interior. There is a sun pad on deck where McGregor and his fiancé are often pictured relaxing on both of their Instagram accounts, as well as a dinette and galley station on board, as Robb Report had revealed.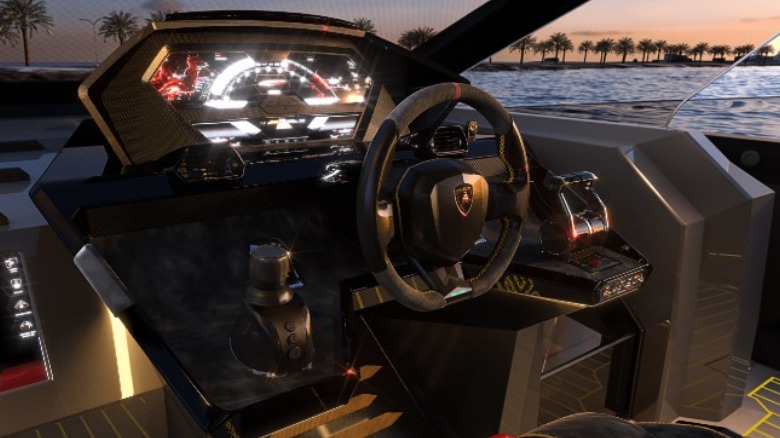 Lamborghini
One of the Lamborghini 63's coolest features is its dashboard. Unlike other luxury yacht dashboards, the 63's dashboard is a Lambo owner's dream: it's a close replica of the Sian FKP 37, a mid-engine hybrid supercar that was released in 2021. For an avid Lamborghini collector like McGregor, he gets to feel the same luxury while out on the water, too.