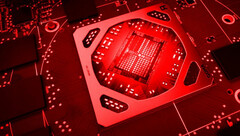 It has been reported that AMD will launch the Radeon RX 6700 and RX 6700 XT graphics cards by the end of March. Apparently, both parts will feature 12 GB of GDDR6 memory and utilize Navi 22 GPUs. However, rival Nvidia appears to have a busy few months planned with rumors of numerous new GeForce RTX 30 series cards springing up.
The AMD Radeon RX 6700 and RX 6700 XT seem almost ready to join the existing Radeon RX 6000 series, which currently consists of the RX 6800, RX 6800 XT, and the RX 6900 XT. However, while these latter three parts feature a Navi 21 GPU, the two newer cards will sport a Navi 22 GPU: Navi 22 XT for the RX 6700 XT and Navi 22 XL for the RX 6700. It's also believed the RX 6700 and RX 6700 XT will come with 12 GB of GDDR6 that takes advantage of a 192-bit memory interface.
Only a few specs are offered up in regard to the upcoming RX 6700 and RX 6700 XT. The source of the report, French-language site Cowcotland, focuses more on the Radeon RX 6700 XT, stating that the slightly more-powerful SKU will feature 40 compute units (CUs) and therefore 2,560 stream processors. In comparison, the next part up in the product stack, the RX 6800, comes with 60 CUs and 3,840 stream processors and costs from US$579. As for TGPs, VideoCardz has gone with 156-146 W for the Radeon RX 6700 and 211-186 W for the Radeon RX 6700 XT.
If the two new AMD graphics cards are slated for a launch at the end of March, that could leave a considerable amount of time for Nvidia to saturate the market with a whole raft of Super or Ti-branded cards from the GeForce RTX 30 series. There have been well-documented memory shortages that will have affected both companies, but it seems Team Green is ready to continue with expanding its current lineup to fill every gaming niche possible. AMD will have to be very aggressive with its pricing for the Radeon RX 6700 and RX 6700 XT to give the cards a chance to survive and flourish in this competitive space.
Daniel R Deakin, 2021-01- 6 (Update: 2021-01- 6)