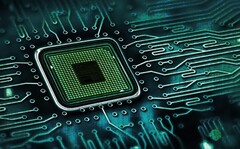 The Steam hardware and software survey for December 2020 has thrown up a surprising result in regard to processor usage. According to the currently published data table, Intel has snatched over 2% of the Windows share back from AMD. However, that's nothing compared to the huge change in the color chart that shows AMD losing over 7% share in one month.
At a first glance, Steam's latest survey shows Intel has finally reversed the trend in losing processor usage share against AMD. In fact, it doesn't just show a trend reversal…it shows AMD being hit out of the park. A change of one or two percentage points is expected over each month, but the comparison on the survey home page shows Intel at 81% and AMD at 19%. If accurate, this would be a gain of 7.91% for Team Blue in just one month.
Going further into the details, the actual usage breakdown table seems to balance things out a little fairer. Previously, November's figures were missing, but they have now been included and match the results that we reported about last month. But the numbers don't entirely add up. Intel has apparently gained 2.18% share with Windows users but lost 0.37% to AMD with Linux users. Even that appears surprising considering AMD is flying high with Ryzen 5000 chips at the moment (if you're lucky enough to find one), but it's not unbelievable.
So why has Steam decided that Intel has gone from 73.1% overall share, which has been sliding downwards consistently for months, to 81% with a huge almost 8% gain over December? Random data misreading? No surveys sent out to AMD processor owners? Cyberpunk 2077 glitches infiltrating Steam's data set? Back in 2018, a similar situation occurred when gamers in cyber cafes in China deeply skewed the results. This story will be updated when and if any further changes are made to the December 2020 survey.
Daniel R Deakin, 2021-01- 3 (Update: 2021-01- 3)